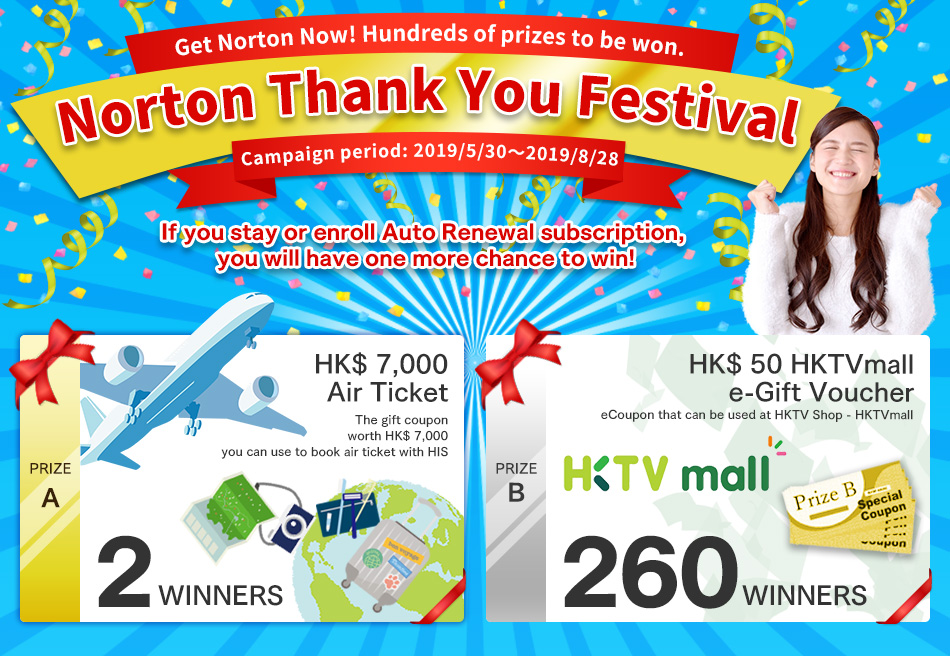 Campaign Summary
Grand prizes by lucky draw will be presented to customers who are currently using Norton valid products, or who have renewed or bought products in the Norton Store within the campaign period indicated below.
Customers already enrolled in the automotic renewal service at the time of the lucky draw will enjoy twice the chance in winning.
Campaign Period

2019/5/30 - 2019/8/28

Applicable products and target services

*

Prize A goes only to those who paid the purchase price over HK$ 350.

*

Prize B goes to all valid purchase order without price limitation.

*

All the purchase orders made within or before campaign period are eligible, as long as the Norton product is still valid at the time of drawing.

*

Purchase orders can be a newly purhcase, a renew purchase, or an auto renew purchase order.

Excluded products

Package products
Products bought from online stores other than the Norton store

Application method
Application deadline

2019/9/11
Prize A : HK$ 7,000 Air Ticket
*

The usable period for H.I.S. Prize A is commence from 2019/10/01 until 2020/03/31.

*

This gift coupon is valid for purchase of air ticket only.

*

The prize is prohibited to convert it into money or transfer to others.

*

The prize can be used at the specified H.I.S. overseas branches.

*

Online booking cannot be acceptable.

*

The details and conditions will be notified to the winner by email with winner notification.

*

Please be noted there may be cases that reservation cannot be made due to availabilities or busy period.

*

For more information, please confirm the winner notification.
Prize B : HK$ 50 HKTVmall e-Gift Voucher
HKTVmall is Hong Kong's largest 24-hour online shopping mall, providing an "one-stop shop" platform to people in Hong Kong, including entertainment, online shopping, delivery service and impressive customer experience.


Terms and Conditions:

*

E-Gift voucher is only applicable on www.hktvmall.com or HKTVmall App online shopping.

*

E-Gift voucher is redeemable only when the coupon code is entered during the checkout process of online shopping.

*

E-Gift voucher can only be used once.

*

Only one e-Gift voucher can be used in a single transaction.

*

E-Gift voucher cannot be used in conjunction with other cash coupons nor vouchers.

*

E-Gift voucher is not payable for other cash coupons nor vouchers.

*

No refund or exchange to Mall Dollar will be made for any unused balance.

*

E-Gift voucher cannot be exchanged for cash or Mall Dollar Cash Rebate.

*

E-Gift voucher must be used before the expiry date, failing which the coupon shall expire with no refund or exchange.

*

HKTVmall is not responsible for lost, stolen, or damaged of the e-Gift voucher.

*

In case of any disputes, Hong Kong TV Shopping Network Company Limited reserves the right to make the final decision.

*

To redeem, a valid eMail address must be provided.

*

To ensure delivery to your inbox (not bulk or junk folders), please add ERHK-eFulfillment@edenred.com to your address book.
Notes and Precautions
Winners of prizes are determined from a strict and fair drawing.
The winners' notification is in the form of winning notifications sent to the winners by email.
The Rights of the Winner is valid only for the actual applicant and is not transferable.
Application will be considered invalid if there is missing or incomplete information in the entry content.
The winning prize might be canceled if fraud was found upon the application.
The prize items included, the content of this campaign are subject to change in part or in full.
Apply for Prize
Please apply by entering the customer's information in the application form below.
Official Rules
"Norton Thank You Festival" Official Rule

"Norton Thank You Festival" Official Rules ("Terms") are terms and conditions determined by Norton Store ("EC Store"), ran by SOFTBANK Technology Co., Ltd. CEO, Shinichi Ata ("SBT") for holding the "Norton Thank You Festival" ("This campaign") in the China, Taiwan, Hong Kong and Korea websites.

By applying to this campaign, each entrant is agreeing to all the conditions stated below. It is to be noted that these official rules are subject to change without notice. All changes are effective immediately when posted on this website.

1. Introduction to the campaign prizes
The prizes that are from the course chosen by the customers, will be presented to those selected by random drawing from a pool of customers who have applied to the campaign.

2. Rights of the Prize Winner
(A)The Rights of the Prize Winner apply to customers using Norton products within the campaign period (including customers who have made a validity date extension in the extend procedure page or use the automatic extension service). Eligible customers are those who have purchased products in Prize A and Prize B at a set price or higher. Please note that customers who have purchased products at a price lower than what qualifies to apply for the campaign are not eligible to win any prizes.
Prize A: Customers who have paid a purchase price of HK$ 350 or more.
Prize B: There is no limit in the purchase price.

(B) The Rights of the Prize Winner are not transferable. It is valid only for the customer SBT contacts about winning the prize.
(C) The Rights of Prize Winner may be nullified under the following situations.
1. If it is not possible to contact the customer in regard to the winning of the prize due to typographical error or changes, etc. in the email address or telephone number.
2. In the case of fraudulent act being discovered regarding the application for this campaign.

(D) Some of the prize items require customers to personally complete some procedures on the respective internet websites in order to utilize them. It is the customers' responsibility to complete the procedure.

3. Regarding Drawing・Announcement of the Winner
After the end of the campaign period, a fair and strict drawing will be held to determine the winners. Announcement of the winners will be done by sending notifications beforehand to the provided email address or telephone numbers. Also, the final 4-digits of the winners' purchase numbers will be announced on the website.

4. Sending Prizes
(A) Prizes will be sent by mail to the email address or telephone number provided beforehand by the customer.
(B) Tax, including the tariff charges and other expenses may occur related to the dispatch of the prizes. Please note that these related costs for shipping will be paid by the customer.

5. Governing Law・Jurisdiction
This campaign shall comply with and be interpreted in accordance to the Japanese law. In the event of a dispute with respect to this campaign, the Tokyo District Court shall be the exclusive jurisdiction court of the first instance.

6. Management of Personal Information
For this campaign, the EC Store will maintain and manage the information attained from customers which enables customer identification ("Personal Information") according to the "Privacy Policy" below.

7. Purpose of Use of Personal Information
(A)At the EC Store, personal information shall be utilized for the following purposes.
1.Notifying the winners and sending prizes
2.Miscellanneous administrative procedures to respond to winners' inquiries, etc. regarding the sending of prizes.
(B) In the minimum extent necessary to achieve the purposes described in the preceding paragraph, the EC Store may entrust or provide the Personal Information to a third party.

8. Retention Period of Personal Information
(A) SBT will delete all personal information within one year after the completion of the campaign application."
(B) Upon the completion of deleting the personal information mentioned in the previous clause, any requests to disclose, correct, add or delete, etc. the personal information cannot be accepted.

9. Other notes
(A) Prizes should be used in accordance with the conditions stated in the mail of the prize delivery and others.
(B)Prizes are subject to change without prior notice.
(C) Prizes cannot be exchanged for cash.

Supplementary Provisions These terms will come into effect from 2019/5/30.


Privacy Policy

SoftBank Technology Corp. (SBT) operating Norton Store (EC Store) declares that it will implement the privacy policy as specified below.

1. Collection, Use and Supply of Personal Information in consideration of Business Contents and Scope
SBT collects, uses and supplies personal information within the scope required for business purposes by specifying the purposes of collection, use and supply of personal information in advance (SBT doesn't collect, use or supply personal information beyond the scope required for business purposes). SBT strictly manages the personal information security system.

2. Compliance of Laws and Regulations
(1) SBT complies with all applicable laws of Japan and other rules and regulations specified by Japan related to the privacy policy.
(2) SBT secures, implements and improves the privacy policy system in accordance with Japanese Industrial Standard "JIS Q15001."

3. Measures for Prevention and Correction of Disclosure, Loss or Destruction of Personal Information
(1) SBT strictly clarifies the responsibility related to the protection of personal information by designating managers and persons in charge required to protect personal information, including Privacy Policy Manager, Auditor, person in charge of Privacy Policy Education and of complaints and counseling. Furthermore, SBT implements the plans and actions related to the privacy policy by the enterprise-wide organization around the Privacy Policy Manager.
(2) SBT maintains company regulations by stipulating the rules and procedures for safe management of personal information.
(3) SBT implements safe management actions required to protect personal information including securing physical safeguards, managing user verification or access restriction, monitoring activity status or system log, and establishing trouble shooting plans including backups.
(4) SBT implements the education for all employees and officers on a regular basis to make them understand the laws and regulations related to the protection of personal information, improve awareness of safety management and enlighten them about the importance of safety management.
(5) SBT monitors the Privacy Policy System to ensure that it is properly implemented through regular internal inspections by the Auditor and by self monitoring by business unit. If any improper item is identified by internal inspection or self monitoring by business unit, SBT corrects the item by clarifying the causes and enforces the preventive actions to prevent the same problems from occurring again.

4. Complaints and Counseling
SBT tries to solve complaints and to counsel related to personal information in accordance with company regulations. For complaints or counseling, please contact SBT using the email below.

[Complaints / Counseling]
sbt_security_policy@tech.softbank.co.jp (only in Japanese or English)

5. Successive improvement of Privacy Policy System (PMS)
SBT keeps improving PMS in accordance with the relevant laws, guidelines or regulations of the government and their revision and change of social environment.

6. Change of Privacy Policy
(1) SBT has the right to change any provision in this Privacy Policy without prior notice.
(2) Any revision of this Privacy Policy will be published on the EC Store website.

Unauthorized reproduction and posting prohibited.