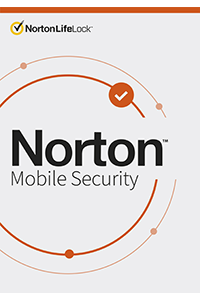 Norton™ Mobile Security
Powerful, effective protection for what matters most in your mobile world
3-Year Download

Antivirus
Antispyware
Identity Protection
Anti-phishing
SmartPhone Support
*Android is a trademark of Google, Inc.
| Product Description | Recommended for | Price | |
| --- | --- | --- | --- |
| 3-Year Download | 1 device | | |
| 2-Year Download | 1 device | | |
| 1-Year Download | 1 device | | |
How It Works
You rely more and more on your smartphone and tablet. Protect what matters most in your mobile world with Norton™ Mobile Security—powerfully effective and convenient security for smartphones and tablets.
Android Only Features
App Advisor powered by Norton Mobile Insight:
Proactive protection lets you automatically scan apps BEFORE you download them from Google Play. You will know whether apps contain malicious code, have potential privacy risks, intrusive behavior and high battery or data usage. Also, automatically scans your previously downloaded Android apps and app updates for these same risks and lets you remove them.
Web Protection:
Automatically blocks fraudulent (phishing) websites to proactively protect your sensitive personal information when you use mobile networks and WiFi connections.
Remote Lock:
Locks a lost or stolen phone or tablet to prevent strangers from using it and seeing anything that is stored on it.
Remote Wipe:
Let is you perform a "factory reset" to completely erase all the information on your missing mobile device, including any data on phone memory cards.
Sneak Peek:
Uses the built-in webcam to take a photo of anyone using your device (webcam-enabled devices only).
Android and iOS Features
Remote Locate:
Pinpoints your lost or stolen phone or tablet on a map to help you find it fast. Automatically saves your Android, iPhone and iPad device location when the battery is low - before it dies. Works with Android smartphones and tablets, iPhone and iPad.
"Scream" Alarm:
Sets off a "scream" alarm, so you can quickly find your missing mobile device. Works with Android smartphones and tablets, iPhone and iPad.
Contacts Backup and Restore:
Saves contacts from your Androids, iPhone, or iPad so you can easily restore them if they are lost or deleted and share them across your devices.
▲
System Requirements
Operating Systems
Android 4.1 or later *1,*2,*3
iOS 8.0 or later
Device Requirements
50 MB of storage
Works with Android phones and tablets that have the Google Play app installed
Works with iPad or iPhone
Browser Support for Web Protection
Android standard browser
Firefox for Android 37.0.2 or later
Google Chrome 18 for Android or later
Opera 8.0 or later
Samsung standard browser 1.0 or later
Desktop Browser Support for Norton Mobile Security Portal
Google Chrome 14 or later *4
Microsoft Internet Explorer 7 or later
Mozilla Firefox 5 or later
Opera 11 or later
Safari 5 or later
Mobile Browser Support for Norton Mobile Security Portal
Android standard browser 1.5 or later
Google Chrome for Mobile 1.0 or later
Safari 5.1 or later
*1

SMS Text Blocking not supported when using Android 4.4 or later.

*2

Auto-scan of apps on Google Play supported on Android 4.1 or later except for Samsung devices. Samsung devices running Android 4.2 or later are supported. For earlier versions of Android, the Google Play "Share" function must be used to scan apps on Google Play.

*3

Android multi-user mode not supported.

*4

Incognito mode not supported.
Symantec, the Symantec Logo, the Checkmark Logo, Norton, and Norton by Symantec are trademarks or registered trademarks of Symantec Corporation or its affiliates in the United States and other countries. Firefox is a trademark of Mozilla Foundation. Google Chrome is a trademark of Google, Inc. Mac, iPhone and iPad are trademarks of Apple Inc. Microsoft and the Windows logo are trademarks of Microsoft Corporation in the United States and/or other countries. The Android robot is reproduced or modified from work created and shared by Google and used according to terms described in the Creative Commons 3.0 Attribution License. Other names may be trademarks of their respective owners.
With this service you receive the right to use Norton Mobile Security for the specified service period, which begins upon initial installation and activation. This renewable service includes protection updates, as available throughout the service period, subject to acceptance of the Norton License Agreement included with this product and available for review at www.symantec.com. Product features may be added, modified, or removed during the service period.
Symantec provides free 24x7 chat, and phone support for a period of one year from initial product installation. Updating to the latest product version may be required to access support. NortonLive Services sold separately.
For full details and to access support, go to www.symantec.com/globalsupport.
▲